Hyundai Elantra: Using a child restraint system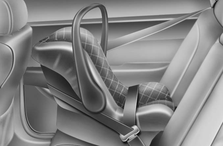 Rearward-facing child restraint system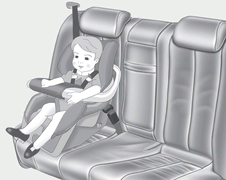 Forward-facing child restraint system
For small children and babies, the use of a child seat or infant seat is required. This child seat or infant seat should be of appropriate size for the child and should be installed in accordance with the manufacturer's instructions. It is further required that the seat be placed in the vehicle's rear seat.Your vehicle is provided with child restraint hook holders for installing the child seat or infant seat.
Children riding in the car should sit in the rear seat and must always be properly restrained to minimize the risk of injury in an accident, sudden stop or sudden maneuver. According to accident s ...
The use of the auto lock mode will ensure that the normal movement of the child in the vehicle does not cause the seat belt to be pulled out and loosen the firmness of its hold on the child rest ...