Hyundai Elantra: Tilting the sunroof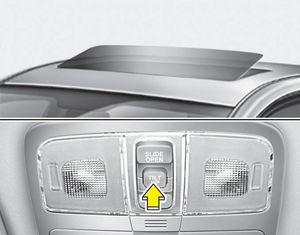 To open the sunroof (autotilt feature), press the tilt button (2) on the overhead console (for more than 0.5 seconds).
The sunroof will tilt all the way open. To stop the sunroof tilting at any point, press any sunroof control button.
To close the sunroof, press the close button (3) on the overhead console and hold it until the sunroof is closed.
If an object or part of the body is detected while the sunroof is closing automatically, it will reverse direction, and then stop. Auto reverse function does not work if a tiny obstacle is blocke ...
The sunshade will be opened with the glass panel automatically when the glass panel is slid. You will have to close it manually if you want it closed. WARNING - Sunroof Do not extend fac ...