Hyundai Elantra: Tachometer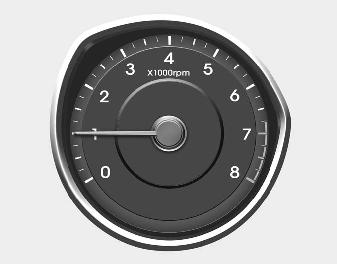 The tachometer indicates the approximate number of engine revolutions per minute (rpm).
Use the tachometer to select the correct shift points and to prevent lugging and/or over-revving the engine.
When the door is open, or if the engine is not started within 1 minute, the tachometer pointer may move slightly in ON position with the engine OFF. This movement is normal and will not affect the accuracy of the tachometer once the engine is running.

CAUTION
Do not operate the engine within the tachometer's RED ZONE. This may cause severe engine damage.
The speedometer indicates the speed of the vehicle. The speedometer is calibrated in miles per hour and/or kilometers per hour. ...
This gauge shows the temperature of the engine coolant when the ignition switch is ON. Do not continue driving with an overheated engine. If your vehicle overheats, refer to "If the engine over ...