Hyundai Elantra: Steering wheel audio control (if equipped)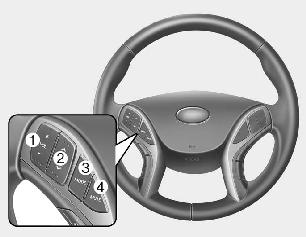 Type A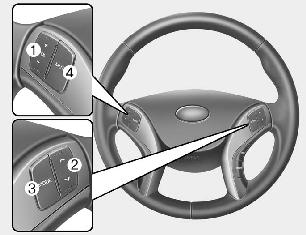 Type B
The steering wheel may incorporate audio control buttons.

CAUTION
Do not operate audio remote control buttons simultaneously.
1. VOLUME (VOL+/-)
Push the lever upward (+) to increase the volume.
Push the lever downward (-) to decrease the volume.
2. PRESET/SEEK (

/

)
The SEEK/PRESET button has different functions based on the system mode. For the following functions the button should be pressed for 0.8 second or more.
RADIO mode
It will function as the AUTO SEEK select button.
CD/USB/ iPod mode
It will function as the FF/REW button.
If the SEEK/PRESET button is pressed for less than 0.8 second, it will work as follows in each mode.
RADIO mode
It will function as the PRESET STATION buttons.
CD/USB/ iPod mode
It will function as TRACK UP/DOWN button.
3. MODE
Press the button to change audio source.
- FM(1~2)➟AM➟SAT(1~3)➟CD➟USB AUX(iPod) FM...
4. MUTE (if equipped)
Press the button to mute the sound.
Press the button to turn off the microphone during a telephone call.
Detailed information for audio control buttons are described in the following pages in this section.
When the radio power switch is turned on while the ignition key is in either the УONФ or УACCФ position, your car will receive both AM and FM broadcast signals through the antenna in the rear wi ...
AM and FM radio signals are broadcast from transmitter towers located around your city. They are intercepted by the radio antenna on your vehicle. This signal is then received by the radio and s ...