Hyundai Elantra: Releasing the parking brake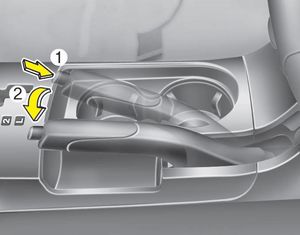 To release the parking brake, first apply the foot brake and pull the parking brake lever slightly. Secondly, depress the release button and lower the parking brake lever while holding the button.

WARNING
To prevent unintentional movement when stopped and leaving the vehicle, do not use the gearshift lever in place of the parking brake. Set the parking brake AND make sure the gearshift lever is securely positioned in 1st (First) gear or R (Reverse) for manual transaxle equipped vehicles and in P (Park) for automatic transaxle equipped vehicles.
Never allow a person who is unfamiliar with the vehicle or children to touch the parking brake. If the parking brake is released unintentionally, serious injury may occur.
All vehicles should always have the parking brake fully engaged when parking to avoid inadvertent movement of the car which can injure occupants or pedestrians.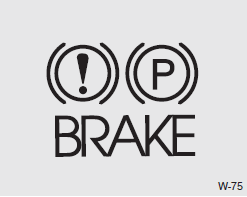 Check the brake warning light by turning the ignition switch ON (do not start the engine). This light will be illuminated when the parking brake is applied with the ignition switch in the START or ON position.
Before driving, be sure the parking brake is fully released and the brake warning light is off.
If the brake warning light remains on after the parking brake is released, there may be a malfunction in the brake system. Immediate attention is necessary.
If at all possible, cease driving the vehicle immediately. If that is not possible, use extreme caution while operating the vehicle and only continue to drive the vehicle until you can reach a safe location or repair shop.
To engage the parking brake, first apply the foot brake and then without pressing the release button in, pull the parking brake lever up as far as possible. In addition it is recommended that wh ...
WARNING ABS (ESC) will not prevent accidents due to improper or dangerous driving maneuvers. Even though vehicle control is improved during emergency braking, always maintain a safe distance ...