Hyundai Elantra: Lighting control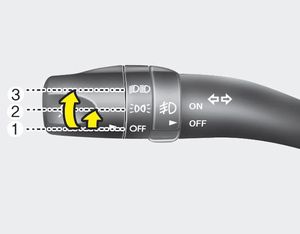 The light switch has a Headlight and a Parking light position.
To operate the lights, turn the knob at the end of the control lever to one of the following positions:
(1) OFF position
(2) Parking light position
(3) Headlight position
The purpose of this feature is to prevent the battery from being discharged. The system automatically turns off the small light when the driver removes the ignition key and opens the driver- ...
When the light switch is in the parking light position (1st position), the tail, position, license and instrument panel lights are ON. ...