Hyundai Elantra: Lighting control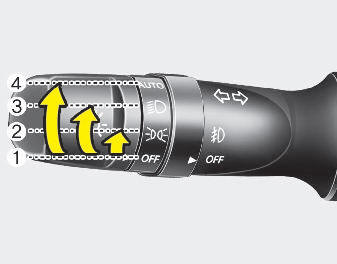 The light switch has a Headlight and a Parking light position.
To operate the lights, turn the knob at the end of the control lever to one of the following positions:
(1) OFF position
(2) Parking light position
(3) Headlight position
(4) Auto light position (if equipped)
If you turn the ignition switch to the ACC or OFF position with the headlights ON, the headlights remain on for about 20 minutes. However, if the driver's door is opened and closed, the headlights ...
When the light switch is in the parking light position (), the tail, position and license plate lights will turn on and the tail light indicator will turn on. ...