Hyundai Elantra: Changing the engine oil and filter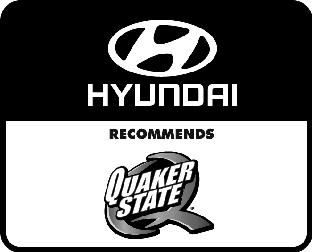 Have engine oil and filter changed by an authorized HYUNDAI dealer according to the Maintenance Schedule at the beginning of this section.
CALIFORNIA PROPOSITION 65 WARNING
Engine oil contains chemicals known to the State of California to cause cancer, birth defects, and reproductive harm.
Used engine oil may cause irritation or cancer of the skin if left in contact with the skin for prolonged periods of time. Used engine oil contains chemicals that have caused cancer in laboratory animals. Always protect your skin by washing your hands thoroughly with soap and warm water as soon as possible after handling used oil.
1. Be sure the vehicle is on level ground. 2. Start the engine and allow it to reach normal operating temperature. 3. Turn the engine off and wait for a few minutes (about 5 minutes) for the oil ...
The high-pressure cooling system has a reservoir filled with year-round antifreeze coolant. The reservoir is filled at the factory. Check the antifreeze protection and coolant level at least once a ...